Sensory Deprivation
, in association with
DUI Enthusiast Magazine
, presents Motor Talk with Tim H.

At first glance the 1984 Toyota Corolla seems too good to be true. The sleek lines, drivers-side mirror, and moulded plastic hubcaps present an image more like the chariot of some ancient mechanical god than a compact sedan. My first impression was one of delighted shock. I stopped in my tracks as the air in my lungs was forced out, before being gulped back in, then exiting rapidly through my quivering sphincter. Yes, the Corolla is that kind of automobile.
The vehicle I tested was decked out with all the modern trimmings. Four doors, a sophisticated urine-on-a-bedsheet colour scheme, front seat AC with a guaranteed "operating percentage" of 35% when used in the shade on a sub-20 degree day. The standard hi-fi system delivers high-quality signals from across the AM band. On the day of our test we had little difficulty picking up 3AWs Neil Mitchell, whose self-righteous alto ramblings were conveyed clearly by the stylish door-mounted twin stereo speakers. Boot space is adequate for carrying anything from a picnic lunch to sports equipment or one or two small-to-medium size bodies, depending on your requirements.
Brake and indicator lights are positioned in their traditional locations, and while all operated consistently on the day of the test drive, Toyota representative Charles Thompson assured me that most units will incorporate the much-loved "bung light" feature of previous models, which sees at least one signal fail each time the car is within sight of a police officer. Completing my inspection of the vehicles exterior I remarked that front, rear, and side panels of the car feature small raised lettering spelling "Toyota Corolla". "Thats so people know its a Toyota Corolla," explained Thompson. And indeed, with a vehicle of this calibre, who wouldnt want to show off its pedigree?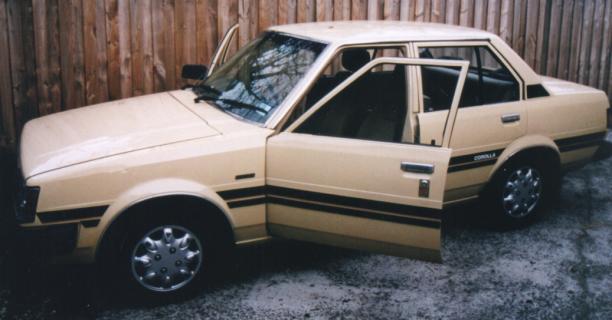 Entering the vehicle, I was immediately struck by both the comfort and functionality of the interior layout. Cushioned seats welcome your buttocks like an old friend, while the close proximity of the steering wheel to not only your hands but your knees too, gives a sense of control almost unrivalled in this era of legroom overkill. The instrument panel is sensibly designed with the literate in mind everything from the speed gauge to the volt meter is conveniently labelled in standard English and comes complete with a special "crackable" odometer, allowing easy mileage rollback when the time to sell comes, giving the car added long-term value.
Aesthetically the Corolla is as opulent inside as it most certainly is outside. No expense has been spared, and years of development have ensured no nook or cranny remains unfurnished with the latest in automobile interior wizardry. With five ashtrays and a dashboard cigarette lighter as standard, enjoying a smoke is easy and safe for the entire family, and nocturnal map reading becomes a pleasure in the subtle glow from the central five-watt light fixture. Of the many interior safety features, one eminently worthy of mention is the backseat windows which cannot be opened fully; rather a full two inches of window remains "closed" at all times ensuring particularly fat children have little chance of falling to a blubbery death on the highway.
Satisfied with the overall quality and comfort of the interior I turned the key and felt the four-cylinder beast hibernating under the bonnet wake from its slumber and growl in readiness. I shivered in anticipation of the drive ahead. The Corolla had already knocked me out with its exquisite style and luxury, its perfectly pitched sense of fun, its innovative design. Now it was time to see how she handled the open road.
Charles Thompson had warned me to expect a few minor bugs. The Corolla has, of course, gone virtually straight from being a twinkle in its designers eye to a fully-fledged road vehicle in a matter of months, and small defects (bald tyres, worn brake pads, etc) are to be expected but the car performed admirably. On a suburban road in normal traffic conditions, the Corolla is unequalled, passing every challenge I threw at it. When I careened at approximately 130km/h toward a group of children on a school crossing, the Corolla screeched to a halt in under fifty metres, leaving several people seriously injured, but none dead. The same test was recently performed with a 1982 Holden Commodore, and wiped out half of Woodside Primarys Grade 5 class. Later I tried some doughnut manoeuvres in the car park of a 7-11 and found the Corollas combination of small frame and strong axles perfect for "doin doughies"; in addition, the vehicles front bumper has little difficulty dispatching most breeds of domestic dog, should such creatures venture into its path.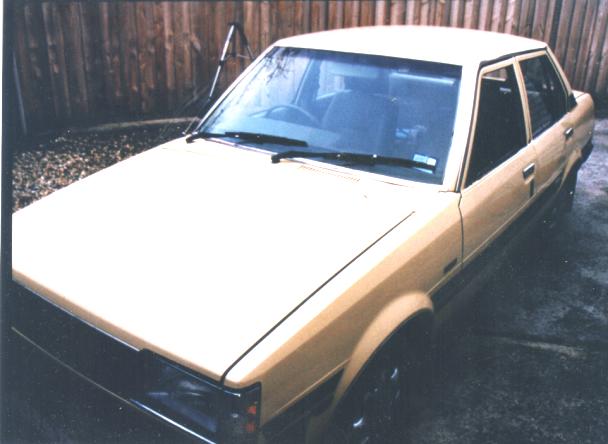 But it's on the highway where the Corolla really comes into its own. A standard acceleration test showed that from a standing start it was possible to shout "Wankers!" at a group of tough-looking teenagers and escape their flick-knife wrath with seconds to spare. Similarly, mooning other motorists is a simple and satisfying task, with our tests showing that when in a traditional mooning position more than 85% of my total arse area was visible to passing vehicles. (With thanks to Toyotas Charles Thompson for quickly taking the wheel during this test.)
As I parked the car at Toyota HQ my heart became heavy. It is my privilege to be paid to drive and write about such magnificent machines, but there is a down side: saying goodbye. And saying goodbye to the 1984 Toyota Corolla was probably my toughest assignment yet. I'm not sure what touched me so much about this particular vehicle. Perhaps it was the way the steering column vibrated against my crotch for the duration of the test drive. Or maybe it was the way the car, more human in some ways than many actual humans, seemed to brighten with pride at my gentle attention, then, later, shed an oily tear at our parting.
Whatever the reason, the Toyota Corolla is a car I won't soon forget. The Corolla has the style, comfort, and all-round performance needed to place it well ahead of the field. Try it yourself but be warned: Once you've loved this car, you may never love another.
Thanks to Toyota and Charles Thompson. The 1984 Corolla is on sale now, on the nature strip outside 109 Maple Rd., Woodside. $900 o.n.o.



Photos by Andy Procter. He's a star. Let's lick his nipples.